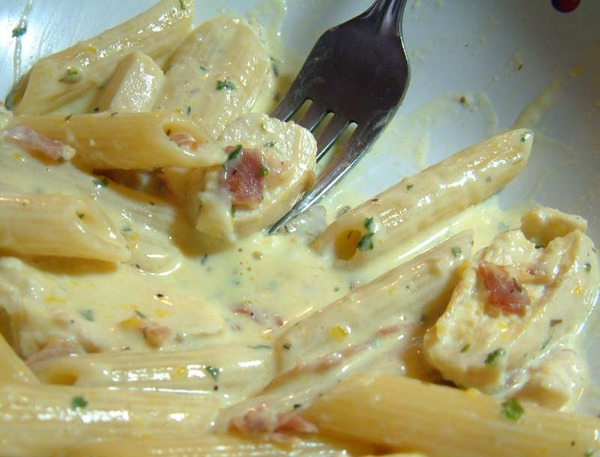 Chicken Pasta Carbonara Recipe:
– Leftover or fresh Grilled Chicken (sliced or diced)
– Penne
– Procuitto (wafer thin Italian salami) or Pancetta (Italian smoked bacon)
– 1/2 C Cream (or milk)
– 1-2 tbsp Butter
– S&P to taste
– Parsley to taste (fresh or dried)
– 3 Egg yolks
Pre-grill the chicken (seasoning it however you like) and dice or sliced it up. Set aside. Cook the penne in salted water to just before al dente. Reserve 1/3 C of the starch water.
Cut up the procuitto or pancetta into small chunks. Heat up a dry non-stick skillet or heat up a metal skillet with 1 tbsp of olive oil and add the chunks of pork to it. Cook for five minutes over med-low heat.
Drop the heat and add the milk, starch water, S&P, chicken and penne. Cover and cook for another five minutes.
Uncover and add butter and parsley, take the skillet off the heat and stir in egg yolks in vigorously till the white sauce thickens sufficiently to coat the penne thickly.
Plate and serve with freshly grated parm cheese over top with a small side salad or grilled veggies.