Sometimes when you're hungry and everything you can and usual do make as a snack isn't appealling to you at that moment, you need to break out of your rut and make a simple, rustic snack. But not just any simple, rustic snack. You need to make something that is as easy to make as it is satisfying to eat.
Enter the zucchini fritter (a.k.a. zuke cakes).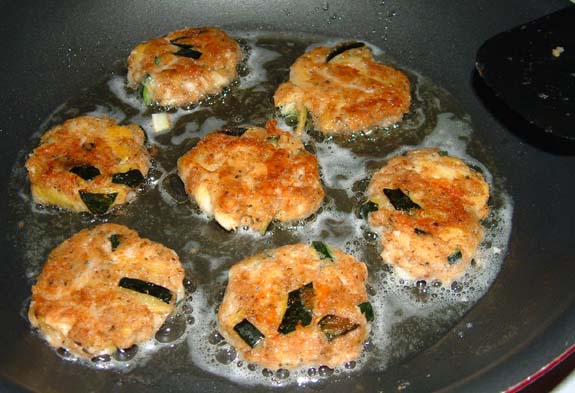 Zucchini Fritters:
– Shredded zucchini, drained of as much water and moisture as possible
– fresh bread crumbs
– one egg, beaten
– handful of shredded mild cheese like parm or mozza
– dried basil and dried parsley
– pinch of cayenne pepper
– salt and pepper to taste
Heat good olive oil in a skillet over med. to low heat.
Mix together till it's one big clump in a bowl. Take chunks and roll in your hands; set on a plate.
Place about five to seven balls into the hot skillet oil, spray the back of a spatula and flatten each ball to a patty shape. (See photo.)
Let each side cook till a lovely brown crusty coating appears. Flip each patty over gently to cook the same brown, crusty coating.
Take out of the pan and place on paper towel on a plate to drain and cool. Serve with salsa, sour cream and more shredded cheese.
Note: I used a medium zucchini and three slices of whole wheat bread ground up in my Magic Bullet to make the bread crumbs. My batch yielded 13 smaller patties (or 6 healthy medium patties).