So, food… Foodfoodfood. I have been busy with everything but food these days, and yet, amazingly enough, I still managed to make a few things in the last few weeks. If I didn't have to make any of these items, I wouldn't be typing this post out. Sad, but true. :-\
From top to bottom: Poached Pears, Vegetable Pasta Soup, Dinner Rolls, Apple Brown Betty, and Ribs Stir-fry.
While rooting through the crispers last night, I came upon four baby pears I can't recall when I bought, so I decided last night to make something fast, simple and sweet. Poached pears fit the bill. It's ridiculously easy to make, and you will wonder why your home ec teacher never taught this one to you in grade 8. It looks and sounds fancy, and it certainly is decadent tasting, but I assure you, anyone can make this dessert.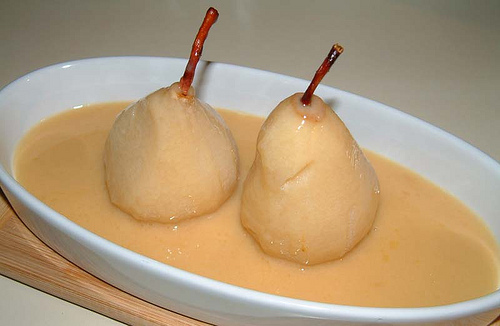 I peeled and steamed a few baby pears in a bath of light brown sugar and margarine in the microwave for ten minutes, covered with plastic wrap. After the pears cooled a bit to handle, I removed them from the pan and plated them. To the leftover pan juices, I added a bit of heavy cream (you can use a scoop of vanilla ice cream, too), and stirred till it was well blended before pouring it over the plated pears and serving with garnish of choice. A few sprigs of mint leaves would be nice.
Lovely, sweet and fun little seasonal fruit dessert to serve on a whim. Very easy, very fast and a great use of seasonal pears.
—
It was bitterly cold here the other day. Cold enough for me to make some soup from scratch. I used the broccoli I didn't roast for Thanksgiving along with some pre-cut carrot strips and onions, in some broth I made using powder, S&P, olive oil, and water to start the soup in my small rice cooker I have in the back kitchen at work. After the soup came to a boil, and my veg had cooked down enough, I added a small pinch more fresh cracked pepper and some homemade dry pasta cut into crinkle cuts. I let that sit at a rolling boil for another 7-8 minutes for the pasta to cook through before bathing in its warmth. This soup did the trick. I was no longer cold that day.
We celebrate Thanksgiving the second weekend of every October in Canada, so that means Canuck Cooks are in a position to make and post about great foods that their American friends, readers and search engines can access a few weeks in advance if anyone's looking for ideas, inspiration or lovely Thanksgiving recipes that just work. This year my MIL asked me to bring the vegetables and I told her I would also bring the buns. She was nervous but said ok. These are the best buns I have ever made. They tasted just like the best biscuits I have eaten. DH's whole family concurs. Must be all the butter the recipe called for. *wink* The dinner rolls and the roasted vegetables recipes can be found over at my Flickr account.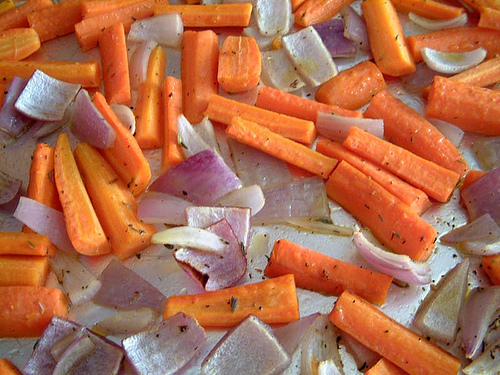 A week or so before the mum gave us the ribs, she also gave us a huge bag of baking apples. I cored and peeled most of them to seal and freeze, but I left a few apples aside to make a dessert I love. It's comfort food for me. I especially love the ease and speediness of making this after a long day and coming home to make dinner from scratch. Apple Brown Betty = sheer brilliance. Me love!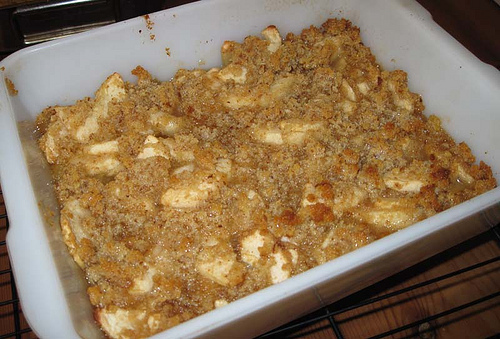 We stopped by DH's parents' for a quick visit one Sunday and they were in the last stages of making a billion ribs, so on the way out, the mum threw a few into a small container for us to use on top of the pizza I planned to make that night. And I did. It was yummy. DH was very happy. I didn't use all of that rib meat on the pizza, so the next night I ended up using the rest of it in a stir-fry along with a bunch of aging veggies. Two birds + one stone = win-win for me.